USAutomatic Heavy Duty Metal Infrared Through Beam Photo Eye Kit 12/24 VDC - USAutomatic 550014
Details
USAutomatic Heavy Duty Metal Infrared Through Beam Photo Eye Kit 12/24 VDC - USAutomatic 550014
Photo eyes are a device used to keep your gates as safe as possible by creating a beam between two units; when this beam is broken, it will stop the gate from closing, protecting vehicles and pedestrians. With a swing gate, it is recommended to use two sets of photo eyes for the best accident prevention.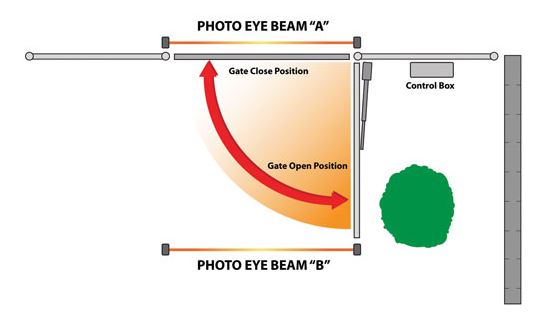 One set of photo eyes pointing across the drive on the outside of the hinge post (A). The second set is mounted across the drive at the point where the gate is fully opened (B). The photo eye must be installed where the gate does not break the beam.
This photo eye set is in a rugged metal housing, with eyes capable of rotating 180 degrees! These photo eyes use an input of 12V AC/DC or 24V AC/DC.
This photo eye kit has a range of 65 feet.
Manual
| | |
| --- | --- |
| SKU | 550014 |
| Manufacturer | USAutomatic, Inc. |