Usautomatic Sentry Linear Actuator Arm - 510300
Details
Usautomatic Sentry Linear Actuator Arm - 510300
The UsAutomatic Sentry Linear Actuator Arm is specifically designed for Sentry Series Swing Gates and is proudly made in the USA. Easy to install, the Actuator Arm connects to the swing gate and hinge post and is a solar-friendly mechanism. This Actuator contains the motor, gearbox limit switches, extension tube, and owner's manual. This Actuator is a replacement arm for Sentry Swing Gate Operators to avoid having to replace an entire Swing Gate System. The actuator is designed to be a quick installation and saves both time and money. This particular model actuator has a black finish on the exterior, which improves the aesthetic appeal of the gate system. With its sleek and efficient design, this durable Sentry Actuator Arm replacement is durable and long-lasting with a non-corrosive exterior. Ideal for residential, light commercial, and farm or ranch applications, this Actuator for Sentry Swing Gate Openers has a maximum gate load of 400 lbs and a maximum gate length of 20 ft.
Included:
Motor
Gearbox Limit Switches
Extension Tube
Harness w/ 8 ft. Cable
Owner's Manual
Features
Made in the USA
Pull/Push to Open
Max Gate Load of 400 lbs
For Sentry Swing Gate Opener Systems
Non-Corrosive, Water-Resistant Actuator
Has A Black Finish to Match Sentry Operators
Actuator Arm Replacement Easy Installation Prolongs Life of System
Applications
For Sentry Swing Gate Openers
Ornmanetal Iron: Max 12ft L , 400 lbs
Ranch Gate: Max 14 ft L, 400 lbs
Farm Gate: Max 20 ft L, 300 lbs
Chain Link Gate: Max 16 ft, 350 lbs
Specifications
Model: Sentry
Opener Type: Swing
Solar Compatible: Yes
Maximum Gate Length: 20 ft.
Maximum Gate Weight: 400 lbs
Rated: Vehicular Class I, II, III, or IV
Power Input: 12 VDC Battery (Not Included)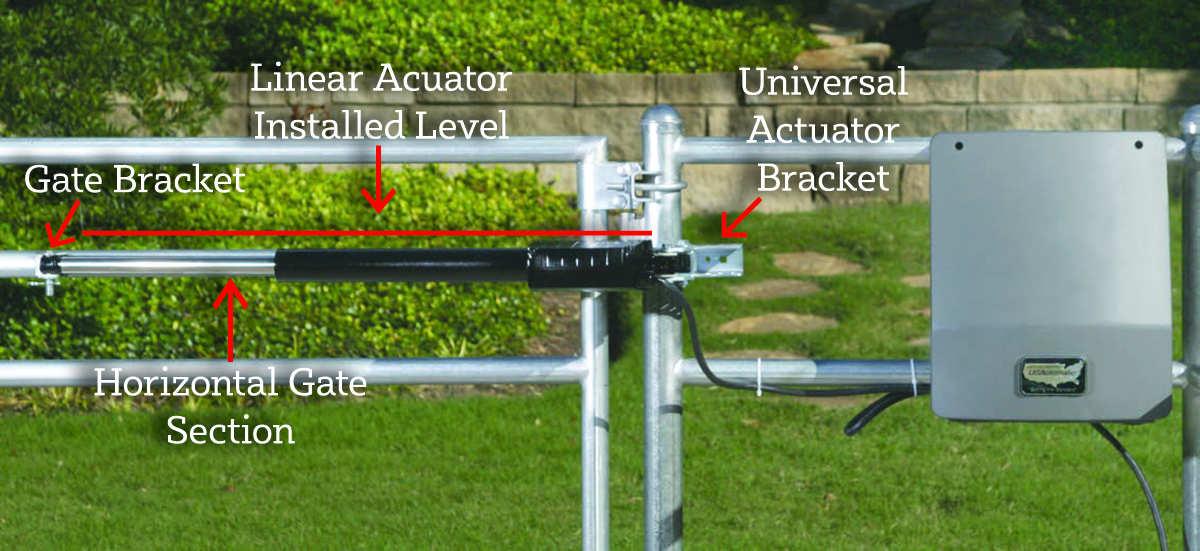 Sentry installed and shown in the extended position. The Actuator must be installed level and attached to a horizontal cross member as shown.
Installation Tips
Install Nylon Washers and Bronze Bushings Into Rear of Actuator
Install the Linear Actuator Into Actuator Bracket
Secure The Actuator In Place Using 3/8 x 2 1/2" Shoulder Bolt and (2) 3/8 SAE Washers
Use 3/8 Nylon Lock Nut To Secure, Tighten But Do Not Over Tighten
Actuator Should Swing Freely*
| | |
| --- | --- |
| SKU | 510300 |
| Operator Type | Swing Operator |
| Model | Sentry HD |
| Solar Compatibility | Yes |
| Maximum Gate Size | 20 ft |
| Maximum Gate Weight | 400 lbs. |
| Manufacturer | USAutomatic, Inc. |