Standard Electric Automatic Gate Openers
Among the many models and styles of electric gate openers, the most common automated gates for residential and commercial properties are electric swing gate openers and electric slide gate openers.
*Sliding Gate Opener: moves along a track from side to side. Fully motorized, a small gear is added to the gate track to automate the sliding gate.
*Swing Gate Opener: swings outward or inward similar to a man door; however, inward swinging gates are preferred to avoid pedestrian traffic. It can be in-ground or mechanically pushed/pulled by an actuator arm.
How Are Gates Automated?
Automated Gates provide controlled access, security, and convenience to various driveway and property types. Automated Electric Gate Openers are designed for ease of use in which an access reader system reads a credential that sends a signal to the gate opener's control panel. The signal activates the gate motor that allows the gears of the swing or slide gate to open upon command eliminating the need to open or close the gate manually.
*Access Credential Reader Systems: Credential Readers are electronic devices that can read a variety of access credentials to signal the control panel through a coded data stream. The user presents the credential to the access point or reader, which will confirm proper entry.
*Gate Operator Control Panel: Considered the central hub, the control panel verifies the credentials presented and signals the motor into action.
*Gate Motor: Automatic gate openers have motors that move either a slide or swing gate. The control panel activates the gate motor once it receives the signal to activate the open/close function.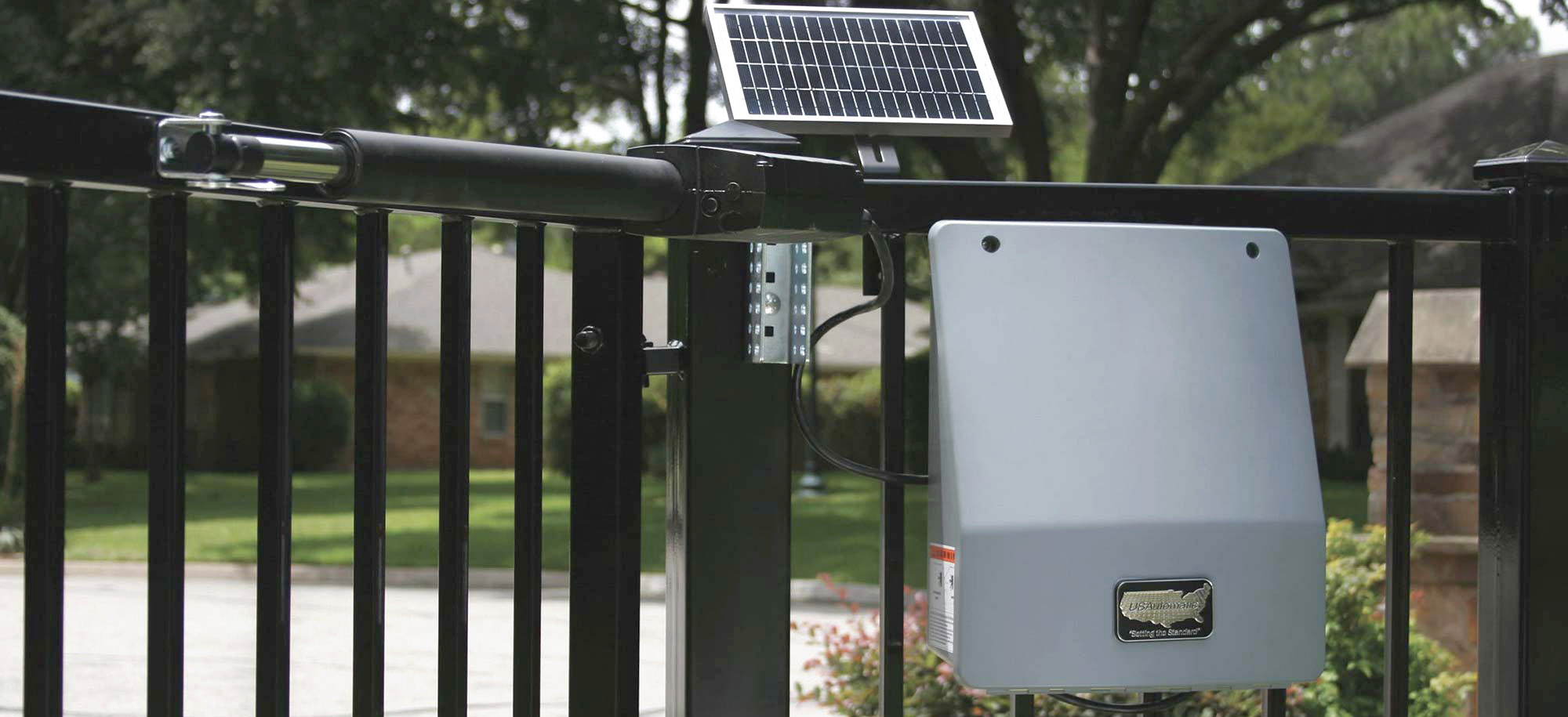 How Are Electric Gates Powered?
Electric Driveway Gates can be powered by an electric system, batteries, or a combination of solar panels and backup batteries. Depending on the property layout, budget, and power source location, there are a variety of solutions to accessing power to the gate system.
Choosing The Right Electric Gate Opener For Your Driveway: Where To Begin?
Performing a property and use assessment is the best way to begin searching for the right electric gate opener for your driveway. In this, notable property factors include the length of the driveway, the slope of the driveway, power source location, and anticipated levels of use. Electric Gate Openers are typically defined by gate opener type (i.e., swing gate or slide gate), levels of use (i.e., residential or commercial property use), and desired methods of access (automated electric gates use keypads, remote control devices, cell phone apps, or access card reader systems for automatic open/close). The property and use assessment can conclude what type of electric gate opener is suitable for the driveway based on its physical features and the features of the gate itself.
Features Of Swing Gates And Slide Gates
Swing Gate Opener
Slide Gate Opener
Aesthetically Pleasing
Can Be Noiser Than Swing Gates
Less Noise
Needs More Maintenance Than A Swinging Gate
Fewer Moving Parts
Great For Sloping Driveways
More Affected By Wind Loading
More Efficient When Used In Small Spaces
Requires Less Side Room Space
Does Not Need As Much Clearance
Common Challenges With Driveway Gate Installations
Selecting an electric gate opener should include researching the compatibility of the specific driveway, understanding where the access to a power point is to power the gate, the specifications of the gate itself, and estimating the expected traffic flow rate consistently. Some driveways present challenges that can be minimized simply by choosing a suitable gate system from the start, and there truly is an electric gate solution to every driveway.
Sloped Driveway / Uneven Driveway: Electric Slide Gate Openers can be installed on driveways that slope or are uneven. Steep driveways or sloped driveways present a problem for swing gates, but even steep driveways can embrace a sliding gate track system as long as the track is as straight as possible on the same slope. The gate itself will need to be shaped to fit the driveway slope, and a suitable motor should be installed that considers the weight of the gate pulling up and down the slope.


Long Driveway / Far Power Point: Electric Gate Openers for long driveways can require trenching and running lines down a driveway by a professional, but it's not the only solution. For long driveways with gate openers, a simple solution is to install a solar panel and battery system. It tends to be more economical and environmentally friendly to utilize renewable energy from solar panels to charge the gate opener's battery. Solar-powered gate openers work just as well as electric-powered ones and can decrease monthly electric bills.
Adding Value To Your Home With an Electric Gate Opener
Electric Gate Openers installed at the end of a residential driveway increase property protection, curb appeal, and property value. Real estate agents highly regard boosting your home's value by installing an Electric Gate Opener to your driveway to maximize the value and entice new buyers through this permanent security feature.
Automated Gate Openers & Access Types
Electric Gate Openers can have many different accessories added to increase ease of access to your property and for operating your electric gate opener. Products such as wireless buttons and remotes, keypads, and smart controllers make opening and closing your gate simple, some even from a remote location. Deciding what kind of access method you need depends upon the electric gate's location and use.
*Wireless Button/Remote: allows the electric gate opener to open or close with a simple push of a button.
*Wireless Keypad: use a simple access code to open and close your electric gate.
*Nexx Gate: open and close your electric gate via Wifi or Bluetooth. Control the gate remotely using the Nexx Home app and receive notifications for event history.
Gate Opener Safety In Your Driveway
Once your property is secured with an Electric Gate Opener, finding the right accessories for maintaining driveway safety is the next step. There are simple things to do, such as properly installing your swing or slide electric gate opener, posting safety signs to alert drivers, and keeping the gate clear of brush and debris. You can also install gate timers, free exit systems, and photo eyes to keep cars and pedestrians safe when the gate opens or closes.
*Gate Timer: used to open and close the gate at preset times
*Free Exit System: detects moving steel on the driveway to allow visitors to leave without using a remote, key fob, or keypad.
*Photo Eyes: produces a beam between two photo eyes; when the beam is obstructed, the gate will be unable to close.
Summary
There are many options when purchasing an Electric Gate Opener for your driveway, but the most common options are a Swing or Slide Electric Gate Opener. These openers can be powered via an electric system, batteries, or a combination of solar panels and backup batteries. Both types will secure your property and boost its resale value, but the type you need will be based on the landscape and clearance, residential or commercial use, and power supply location. Slide and Swing Electric Gate Openers can have additional safety measures installed to increase the safety of cars and pedestrians while the gate is in use. No matter which you decide, Swing or Slide, you can be sure that you will have a reliable, smooth electric opener for your driveway.